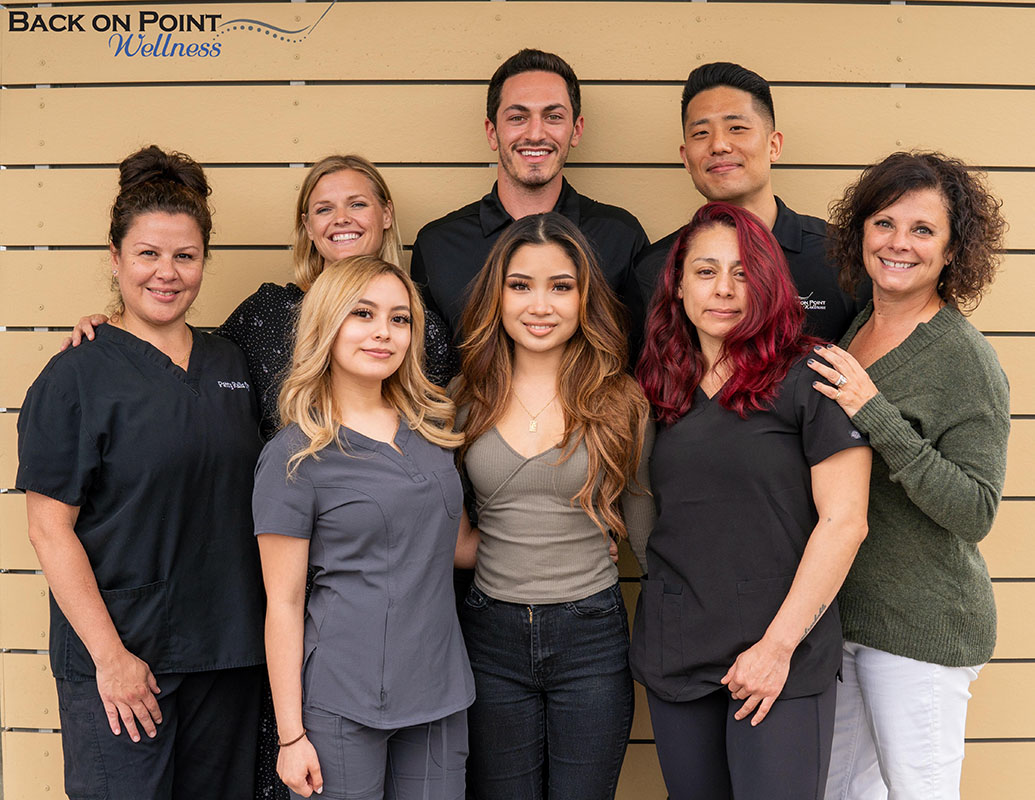 Chiropractor Torrance, CA
IMPROVE THE QUALITY OF LIFE THROUGH ROUTINE AND THE BEST CHIROPRACTIC CARE IN TOWN
Looking for a Torrance chiropractor or acupuncturist near you? Our team at Back On Point Wellness is committed to providing wellness solutions to address your unique needs, whether you are experiencing back pain, neck pain, headaches, or even muscular tightness and tension. You may be searching for pain relief after an accident, experiencing an injury, or if you suffer from a specific condition like chronic back pain or a post-surgery condition. Even if you are looking to improve your overall health, our wellness experts can help you attain your everyday wellness goals!
At your first visit to Back On Point Wellness, we will explain how chiropractic care and acupuncture or massage therapy works and give you a full evaluation to see if our wellness solutions are a good fit to address your needs. If there is a good fit, we can customize a plan of wellness care for your condition and health goals. Ready to schedule with our chiropractor, acupuncturist, or massage therapist in Torrance? Give us a call or text us today, or complete our quick and easy online form. We're looking forward to working together to achieve your health goals!

Active Release Technique
A.R.T. provides restorative therapy for soft tissue that may feel tight or knotted due to fascia or contracted muscles.

Comprehensive Services
Whatever your needs may be, we do our best to provide holistic care and treatment for each of our patients.

Patient Education
We may be the experts, but you know your body better than anyone. We ensure that you are educated on each of your options for optimal results.

Quality Care
Our experts have undergone years of study and training to provide our patients with the highest level of care available.
ACUPUNCTURE
This ancient healing technique can alleviate a broad range of symptoms and illnesses by balancing your body.
CHIROPRACTIC CARE
Our office incorporates the latest spinal corrective techniques to improve your mobility, function, and comfort.
ACTIVE RELEASE TECHNIQUE
Looking for active release technique providers near you? Back On Point Wellness in Torrance, CA, offers A.R.T. treatments.
MASSAGE THERAPY
Many patients find relief from massage therapy through deep relaxation, improved circulation, a greater range of motion, and more.
CUPPING THERAPY
Cupping therapy offers many benefits for patients such as detoxification, increased circulation, and pain relief.
STRETCH THERAPY
Stretch therapy can improve range of motion and enhance movement patterns through passive stretching techniques.
REHAB EXERCISE
Our Torrance chiropractic office also has a dedicated space for corrective exercises and rehab exercise training, including one-on-one sessions.
TRANSFORMATIONAL LIFE COACHING
Transformational Life Coaching will help you find clarity to overcome the obstacles that are in your way to achieving happiness and balance in all areas of your life.
ORTHOTICS CONSULTATION
We offer orthotics consultations, to assess which type of custom orthotics is right for you.
BACK ON POINT WELLNESS HAS BEEN FEATURED ON