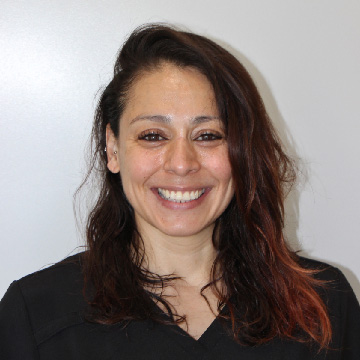 Cindy Fuentes C.M.T.
Since 2006, Cindy has taken her passion for health and fitness and developed her own personal style of deep sports massage. Her specialty is utilizing body movement, which helps alleviate deep muscle trauma or tension.
Having competed as an accomplished athlete in USA weightlifting and Powerlifting events, Cindy has a zeal and true understanding of the body's anatomy. These experiences have equipped her with advanced strength training for a client's back, core, and neck. Cindy's massages have aided her clients with active lifestyles to alleviate deep, chronic pain and to return to their daily activities, devoid of pain.
Massage Therapy Style
Utilizing muscle kneading and breath & forearm work, Cindy incorporates active release techniques during her massage. With dedicated attention on working deep into the muscles, her sports massage is pointed, therapeutic, and offers essential relief so her clients can resume their active lifestyles, free from pain.
"It gives me great joy to see my clients stronger, healthier, and living a pain-free life."
Education:
Massage Therapy Certificate – Everest College, Torrance, CA